Correct grammar and spelling are essential in English language. Till recent decades there were cosistent manual efforts to maintain correct grammar and spellings in english literature.
But now, with advent of technology and software, it is easy to write assignments, email, and other writings. One of the prominent of such software is grammarly.
It is pretty versatile tool with free features that can be used by anyone.
If one needs more features, then he can try the premium version, which is excellent for professional writing.
I have been using this software as both free and premium versions, and here is a review of it.
Grammarly Premium Review
It is a software bundle that can be installed as an addon to your Microsoft windows office or any of your browsers like firefox, google chrome, edge, etc.
Besides, one can even paste the write-up into the Grammarly dashboard and correct it.
It helps to correct spelling mistakes, wrong choice of words, sentence framing, and even check for plagiarism.
It can be used by anyone who wishes to write in English.
The topic of writing could be social, science, literature, general writing, research paper, medical-related ones.
But the free version has limitations as it can only help you to find spelling mistakes and minor grammar errors.
It could be useful when one is writing a long essay or assignment.
It can help you write in either American, British, Canadian, or Australian English.
Do you really need it?
I would say yes if you write regularly or you are a student or teacher.
Even if you are a regular writer, Grammarly can help you save time and avoid errors in writing.
If you have hired writers for any of your writing work, you can check for errors using Grammarly. It is very quick and fast.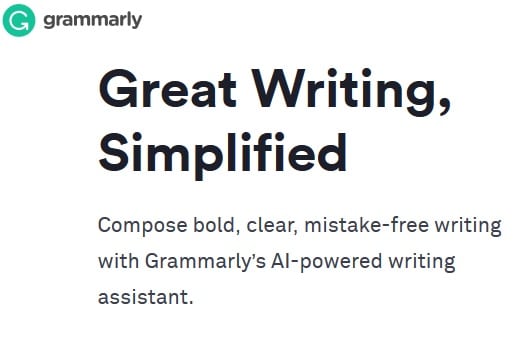 Also, if they have copied the content from other sources, you can verify it through a premium version.
The plagiarism checking version can help you find the extent of content being copied and its source.
How can you access it?
One can access the premium version after making a payment to it.
First, you have to sign up for the free version just by using your email.
You can use the free version through the browser addon.
And for writing in Microsoft word, you need to download the addon, install on your computer and then use it.
But, for students, the premium version can be obtained from their educational institute or university.
If your university does not provide it, you can upgrade the free version to a paid version for a month or yearly subscription.
But one must always be connected to the internet to get the Grammarly software working.
Plagiarism checker feature of Grammarly
Grammarly's premium feature is its ability to check plagiarism.
It searches online websites for any matching of lines in your writeup.
It indicates the matching lines with an underscore and also gives an overall percentage of plagiarism present in your writeup.
However, it does not check online PDF files and published journals in PDF format.
But it checks for Slideshare and other PPT and Word files too.
I did compare with other software for plagiarism checking.
And I would say it to be an excellent piece of software in doing that.
It is fast and has extensive searchability.
Advantages:
Easy to use as it not require a heavy operation.
A free version is sufficient for a normal spelling check.
Premium version is also affordable and one can buy it only in times of need.
Your university can also purchase the software for access to the students.
Disadvantages:
The addon's for Microsoft office or browser could slow down your system.
Sometimes it gives wrong suggestions and if you accept the changes without notice, it could lead to error or wrong meaning to the sentence.
Its database of spellings is huge, but it is not complete.
But, of course, you can add your own words to the system.
Uses cases
Grammarly can be used in all most all English writing cases. But it is best for
Email writing.
Scientific or research article writing.
Blog article writing.
Thesis or disseratation compilation.