Email writing skill is essential as we use email as a primary means of professional communication.
Be it a Job application, business proposal, or contract, email is used as a standard document for communication.
Unlike mobile messages, where we just pass personal information, emails are viewed with more attention and stored for future reference. Hence, they are regarded as a form of professional communication.
The time taken for communication by email is dramatically low compared to the courier, post, etc. So, school and college students, employees, executives, politicians, and people in business find email the most convenient form of communication.
Where does email find official and indispensable use?
For students and employees.
To apply for leave from.
To send an application for a job.
To resign from a job.
Mass communications for wedding invitations, marketing, and passing any official notice or news.
Sharing study material as PDF, word files, Url links, video, power-point PPT, etc.
For corporate, busyness people,  politicians, etc.:
To request for inquiry or quote for the price of a product.
To ask for a postponement of appointment or grant of leave.
Purchase something or inquire about purchases required in the office or workplace.
To communicate important meetings or events to juniors, senior employers, etc.
Why should you consider good email writing skills?
Email is a valid proof document; it can be printed out and saved for future reference. So, one should be careful with what he writes.
Also, people read something by the heart. So, it can stoke their emotions.
Further, since it is not verbal communication, chances of misinterpretation of information are possible.
So, in case you make a joke, it can be misinterpreted by the reader. This is because voice communication is different than written one, as the latter lacks body language.
Physically one is absent to give the information with practical communication skills like speaking and facial expressions.
So, one needs to show his character or impress the reader by writing in words to show off courtesy, confidence, and professionalism.
Essentials of email writing skills:
Except in email newsletters, any personal email, and professional email should be simple and to the point.
Use a company letter pad image if possible or a signature in your mail if you send a company-related mail.
Pay respect and regards to your elders or supervisors. Show affection to your family members or friends. This is essential as email is present for a long time with the receiver. This minimizes the chances of offending others.
How to write an email:
Email subject; The subject is one that is visible at first instance to the reader or mail viewer. This will actually decide if the receiver has to open your mail or not.
Higher officials, business people, and politicians receive hundreds of emails every day. So they will not have time to open all of them and read. They may even have assistants who read out important emails to them.
So if the subject is interesting or curious, then the viewer will open the mail, or else he may just delete it. Hence, the subject of the email becomes critical. So, always keep it eye catchy to tap interest and be related to their profession.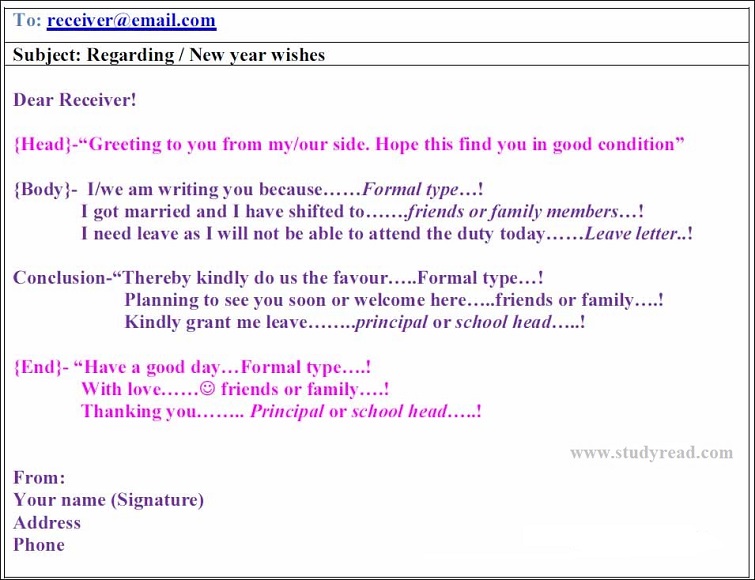 Email subject line best practices:
♦ Be direct to the point if it is a professional email. Like an application for a job or resignation, or a business matter etc. Keep it short and precise as it helps the receiver decide the importance of mail.
♦ If it is a friendly mail meant for any wishes like a birthday or festival, or celebration, give the wishes directly. Because most people will be eager to open such emails as they communicate affection and hence will receive your wishes. Even you will notice these emails get replies faster.
♦ But if it is a nonprofessional one, like criticizing or pointing out someone's mistake or their mistake, the subject should be off a bit more serious. So include the matter in the email body but not in the subject.
Email body
♠ Always start with addressing the recipient with a hello, dear or sir/madam,  etc. This depends on the position or relationship level of the receiver. If the receiver is a highly profiled person like a police officer, judge, director, etc., it is good the show respect as it indicates your attitude towards them or their job.
♠ Try to write an introductory line like
"How are you, How are you doing, etc." – only for friends, relatives, or acquaintances.
You can give wishes if it is a new year, birthday, festival or for their achievements, etc." – for friends & even professionals also this works.
"With reference to previous mail, glad to have received your mail-As reply to professional mail.
Hope you remember when we met at so and so place, etc.-recent past acquaintances/ colleagues, etc.
"I bring to your kind notice, or we request you to.." For emails with a request for help or service from persons in a high position
♠ Come to the point of what you want to say. Write the point or lines clearly.
♠ Ask for help or reply or service you intend to provide with reasonable remuneration or return from your side etc.
♠ Always give a pleasant end like
" nice to have met you or come in contact with."
Best time to call or eager to work with."
All the best for your future endeavors, achievements or exams, etc.
Awaiting your reply, thanks in anticipation, etc."- If you are expecting a response.
♠ Courteous bye
Yours, yours lovingly, your friendly, yours sincerely (for elders), faithfully (for superiors), regards for casual friends and acquaintances.
Email Signature
Have your email signature at the end of the mail.
This signature, if used with your photo and clean design, can be more attractive and professional, as seen below.
Since emails look similar to one another, during the Job application, the recruiter may not notice if your email seems identical.
So the use of self-portraits in signatures is essential because this creates an impact in the mind of the reader.
You can create a free email signature.
Tools for effective email.
There are multiple tools to make your email more effective. These help in
Writing with correct grammar: Use Grammarly for free.
Track the email openings with sales handy.
Reminders of the follow-ups etc.
A word of caution.
This is a last but also fundamental email writing skill to remember.
If you want to shout at or scold someone and if you want to show it in the mail. Please do not send it immediately.
Save it in your drafts and then send it later if you still want to. Because the chances are you may change your opinion and cannot correct it once you send it
This way, you can avoid the feeling of guilt or remorse if you did it in a hurry and later repent for doing it.
An Ex-American president was outrageous with the chief of the military as he did not follow his order.
So he wrote a scathing letter with some abusive words out of his anger.
Then he left the letter for his assistant to dispatch.
But, after the president left, his wife took the letter, placed it in a book, and did not post it.
Later, the same military chief was so loyal to the president.
Imagine how he might have behaved to the president if he had received that letter. 
Final tips
1. Avoid spelling and grammar mistakes. This can be done by a word processor or Grammarly addon.
2. Enable the option to send an email after a few seconds. This helps you make any changes before it is delivered. This option is available in the account setting, or you can use an addon in your browser.
3. Also, try to check if your email is read. This can be done by using email trackers. These email trackers will give details like the location of the reader, time of opening, number of times opened, etc. This tells you if the receiver opened your email.
4. Finally, do not write an email unless you are clear about what you wish to say.
Thanks.